Customized Promotional Calendars Featuring Parking Suspension Days for 2018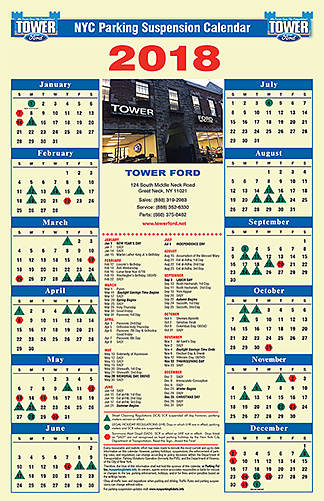 A great way for you to say "THANK YOU" to your loyal customers 365 days a year with customized promotional calendars. Your business-customized calendars also offer valuable parking information designed by nycparkingtickets.info, the leader in parking education since 1994.
A photograph of your business storefront will be featured prominently on an easy-to-read, full-color calendar that highlights your business telephone, address, and website.
Also included are social media icons such as Facebook and Yelp to help promote your business through social media, in addition to all the parking suspension days for 2018. And we all need to know when to avoid parking tickets!
Your custom calendars are printed on high-quality, semi-gloss card stock; a sample proof is provided when your information is submitted. Requirements: a high-resolution logo and photograph. Photographic services available at no charge.
Calendar order quantities:
100 / $225
250 / $500
500 / $625
Delivery: $45
You also receive:
a full-color pdf file of your business' customized calendar for placement on your website
one frameable 8x10 photo
additional photos $10 each
There is a one-time artwork design: $75, that includes up to two edits. All business content must be proofread and signed off by the buyer prior to printing.
Available options: half-fold and envelope mailers, prices on request.
The 2018 customized calendar is available for the rest of 2018. Remember: When your customers check the calendar for street regulations, your logo reminds them that you care about their welfare every single day of the year.
Please fill out the online form and our Agent will contact you with a proof.
Information as you want it to appear on the calendar: