How to Avoid and Deal With Parking Tickets Effectively
The New York City Motorists' "Parking Survival Guide" reveals the secrets of what motorists need to know in order to avoid and successfully defend against parking tickets. Based on current New York City parking laws and regulations, this comprehensive reference book includes an index and glossary for quick reference and easy access to specific questions and problems.
Parking Pal makes it their business that people in the Big Apple know where its legal to park, know the laws and are prepared to fight and win when parking citations are issued. —John Van Horn, Editor, Parking Today
The first edition of the "Parking Survival Guide" was selected as the #2 Reference Book in New York City by About.com, second only to Zagat s dining guide. — About.com
Camporeale s guide is well-written, organized and will be helpful to anyone who drives a motor vehicle in New York City. — John Passidomo, Former Commissioner, NYS Department of Motor Vehicles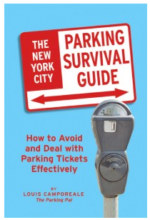 Now My Insider Knowledge Benefits You!
When I created the Parking Pal Company and published "The New York City Parking Survival Guide" in 1994, I knew I was on the right track. And after almost 25 years. The Parking Pal is still the only motorist education firm offering an entire line of parking survival products for those who drive and park in New York City. Our mission is to help you avoid parking tickets and beat the ones you can't avoid.
Flash! The Third Edition of the "Parking Survival Guide" is coming soon. Reserve your copy today. Don't wait until after you get a parking ticket!
Stay Connected
Keep up to date with parking issues in New York City. Access our Members Only page for the latest updates. To register, click here.
Affiliations